cd burden 01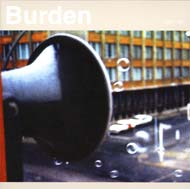 sn1199
musicians guardi and jeff hicter
artist kristina solomoukha
production snark
songs 257 - 424 - 399 - 574 - 221 - 966
total time 56.56 min

cd burden 02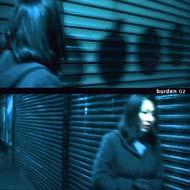 cover 300 dpi

sn0902
musicians guardi, jeremy bristock, push push
artist mélik ohanian
production snark
songs Kick - West - Time Is Now - Follow The Leader
Harpy - Guardi's Song - Caribe Con Scratch
total time 63.36 min


Guardi alias Francois Lopez is a musician with multiple talents, a song writer above all. First of all, he is known on the rock scene as a member of the Clandestins and Guerilla.. For the past ten years, he has been equally composed the music for about ten modern dance creations. In 2000, Guardi inaugurated a new project called Burden, which involves inviting different musicians, from different horizons, to compose together electronic music and to propose a graphic artist to design the cover of the final album. The first CD "Burden 01" has been released with Guardi together with Jeff Hicter, Kristina Solomoukha designed the CD cover .
The second release is available today, resulting from the collaboration of three musicians, Push Push, Jeremy Bristock and Guardi, the visuals, this time were made by the artist Melik Ohanian. Following the electronical music carved out on the first album, Burden 02 is a mixture of sounds: jungle, trance, experimental which surprise due to the music's sometimes lyrical atmosphere and its energetic dance floor music resemblance.


march - april 2003



BURDEN 02 - Snark/Hokus Pokus
The favourable results from the brainstorming initiated by Guardi alias Francois Lopez .
He proposes a new type of "techno" borrowed as much from the techniques used for making the original sound track of films as from the alchemy of trance. It is difficult to be bored with this second album, which emerges with a profusion of percussion and in strong rythmique form. The dance machine plays on in syncopation and «imparable» in the way of the Chemical Brothers approaching the creativity of "Art of Noise". From the first track this uninhibited emancipated jubilation is maintained, from time to time bubbling over with nice surprises, sometimes, it goes the whole way to give us a dose of dance floor tubes thanks to "Follow the Leader" a futuristic sacred hymn or "Harpy" as though straight out of a rock and roll opera from the third millennium ...


january - february 2003


Burden the electro revelation
Here is the electro, which make you hit the ceiling! With a hallucinate richness in sonority… an elaborate French Touch, marrying trance, break beat, modern or experimental film music, never loosing the track with a beat made for the dance floor……a revelation!



october 2002



Burden 02 in Soundkeys
Electronic music in its widest sense, difficult to stick a label on it, it s so rich and varied. The rock, lyric or jungle passages respond with a sonority of trance music, where each measure marks an evolution, where everything is movement. Each time one listens to the album, there is always something to discover ..







february 2001




Burden 01 in Keyboards
Burden is on the way to become the spearhead of the renewed French electronic music. In the wake of Aphex Twin, Autechre and the best representation of the electronica,……Blade Runner, lost in a techno breakbeat futurist club…a revelation, and a remarkable entity on the border of the French Touch.
Jean-Henri Maisonneuve